Great news for QMS again!
We are delighted to announce that our 𝐑𝐢𝐠𝐡𝐭𝐒𝐡𝐢𝐩 𝐃𝐫𝐲 𝐈𝐧𝐬𝐩𝐞𝐜𝐭𝐢𝐨𝐧𝐬 𝐜𝐨𝐮𝐫𝐬𝐞 is officially evaluated and recognised by 𝐓𝐡𝐞 𝐍𝐚𝐮𝐭𝐢𝐜𝐚𝐥 𝐈𝐧𝐬𝐭𝐢𝐭𝐮𝐭𝐞!
QMS Maritime Training Center, following current developments, is providing the shipping industry with quality and ethical maritime training!
We are also working towards launching a few more, NI approved courses. Stay tuned!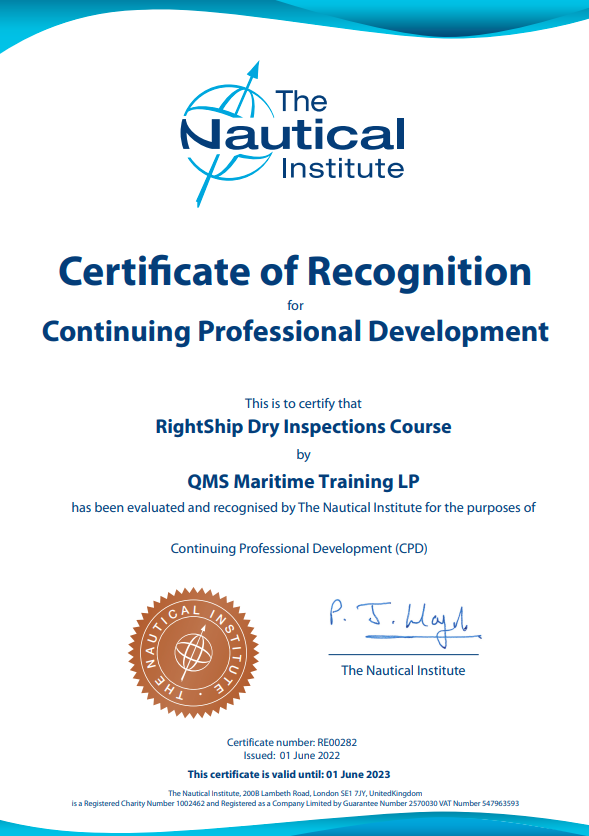 Register, here: https://lnkd.in/eNF8Wn2r
#QMS#elearning#maritimecourse#maritimetraining#maritimeskills#qmstraining#qms#stcwcourse#onlineeducation#maritimecertification#maritimeindustry#ISPSchools#thenauticalinstitute#Rightship#inspections